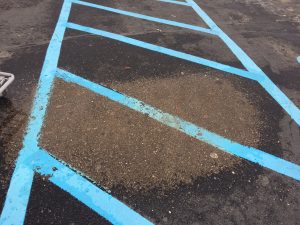 Q: Why is there a bare spot on my driveway or parking lot?
A: We get this question pretty often and the most common answer is water. Whenever you have a low area that holds water (whether from rain or a sprinkler system) you will most likely experience some premature deterioration of the sealer.
Please contact Mr. Sealcoat if your question is not answered below.
SEALCOATING NEW PAVEMENT
New parking lots are generally ready for seal coat one year after construction – once curing is complete and the structural soundness of the lot's surface and base are established.

---

LIFE OF FIRST SEAL COAT
A coat of seal coat can last about 2 years. However, various factors – traffic volume, grade of material, quality of the sand and latex – affect the life of the application.

---

MAINTENANCE
A number of factors determine how often a lot should be resealed. Lots with a lower quality of pavement and/or high traffic volume need to be treated more frequently but, in general, pavement should be resealed every 2 years.

---

SPRAY VS. SQUEEGEE
Spray treatments are ideal because they apply the material evenly.