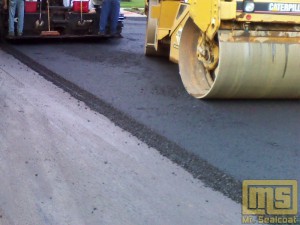 Asphalt surfaces provide a beautiful appearance and provide many advantages to other types of applications. It is water resistant, flexible, durable, and requires a minimal amount of maintenance.
Asphalt resurfacing restores and enhances the appearances of asphalt surfaces. It provides an attractive rich black color with a smooth, even coat.
There are three different services that can be made to an asphalt surface. They are: install a brand new driveway or parking lot; resurface, or have it patched.
Not every parking lot or driveway needs to be completely replaced. If the underlying sub-base is in good condition and the existing surface is structural adequate, it is a prime candidate for asphalt driveway resurfacing. Asphalt driveway resurfacing requires several steps to complete.
The first step requires a very close inspection. Before we start the asphalt driveway resurfacing, we will do a complete inspection of all areas. If any area of the asphalt surfaces is deteriorating than those sections of asphalt need to be repaired first. Any attempt to skip this part will add to the asphalt driveway resurfacing cost. By not completing this process first, you will allow the old deteriorated sections to show through.
Then next step is to completely clean all area in preparation of resurfacing. When the tack coat is applied, it is important that it is applied to a clean surface to aid in adhesion. This is a n important step in asphalt resurfacing.
The last step is to pave the area with a new layer of asphalt. The new asphalt is then leveled and inspected to ensure all drainage in the area is adequate. This step is repeated a second time and creates a very smooth finish.